Kazakhstan

Kazakhstan is the size of a small continent, and as a result it is a country with vast natural landscape from the steppes through to mountains and arid lands. The northern branch of the Silk Road passed through Kazakhstan in the southern part of the country.
The country has a rich cultural melting pot of numerous nationalities and ethnicities within its borders. You can still find archaeological pathways tracing the northern silk route around Almaty.
Kazakhstan has Russia bordering it to the north, Uzbekistan, Turkmenistan and Kyrgyzstan to the South, and China to the East.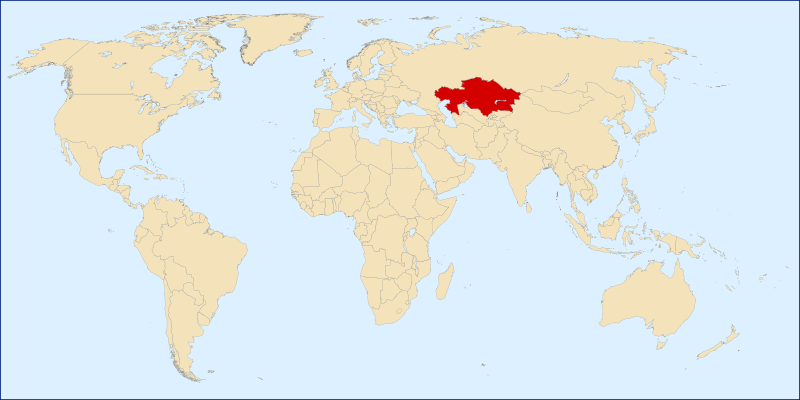 Cities
Almaty is Kazakhstan's largest city and is located at the south of the country, close to the Kyrgyz border. Its cosmopolitan atmosphere and European architecture make it en par with European cities. It's leafy streets come with a pleasant backdrop of the Zailivsky Alatau, part of the Tian Shan Mountains. It's a great travel hub for those looking to explore Central Asia, but its Western lifestyle makes it a popular city with Westerners.
Astana is the capital of Kazakhstan, despite being just a medium-sized provincial city, replacing Almaty in 1997. It boasts a fantastical and futuristic skyline that has completely changed the profile of the city in the space of a few years.
Eat & drink
Beshbarmak is a pasta dish that's been made with horsemeat, potato and onion. It's often served up for special occasions, but you'll find most Kazakh restaurants will serve a portion for a small group of people or a couple.
Kazy is a handmade sausage that's made from horsemeat. Sometimes it's served with Beshbarmak, but otherwise it can be served as a cold meat appetizer.
Laghman is another noodle dish that's served as a soup. It mostly contains meat, onions and carrots, but it can also include other ingredients.
Kvas is a Kazakh root beer, which can be store bought, but for authenticity buy it from the vendors with the giant yellow colored tanks on the street.
Do
The Khodzha Akhmed Yassawai Mausoleum. This 14th century monument is one of the most visited Islamic sites in the world, and was even rebuilt by Tamerlane, turning it into one of the largest complex of palaces and temples in the region.
Otrar was a major trade center between Europe and China on the Silk Road between the 10th and 12th centuries. It flourished again in Tamerlane's time, even though the Mongols had previously sacked it. You can still see the city's walls, gates and citadels today.
Taraz is an ancient city that is over 2000 years old and became a great commercial center on the Silk Road, trading in silk, gold, silver, bronze and leather. Now an archaeological site, you can still garner an idea of the quality of life this city once had with its cobbled streets and sophisticated plumbing system.