Marking the Western end of the land-based Silk Road in the Middle East, Syria is a country that is rich in history and cultural heritage, but unfortunately due to the current civil war, many historical sites have been damaged or destroyed, not to mention it's become very unsafe for tourists to visit at present.
The ancient cities of Damascus, Aleppo, Bosra, and Palmyra are all on the UNESCO World Heritage list and most of Syria's historic monuments still play a part in daily life, from its historic souqs, tea houses and mosques.
Syria shares its borders with Turkey, Iraq, Lebanon and Israel, and a coastline with the Mediterranean.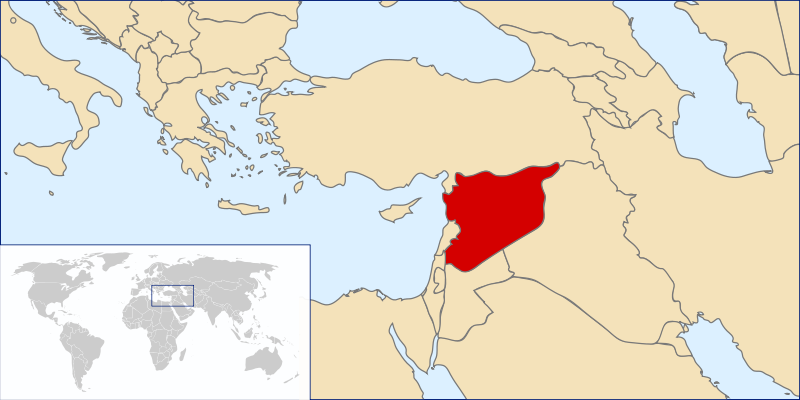 Cities
Damascus is one of the oldest inhabited cities in the world, since it was established 10,000 to 8,000BC, and eventually became an important hub on the southwestern branch of the Silk Road. The city is a labyrinth of narrow alleyways and old houses decked with green courtyards.
Aleppo is one of historic Silk Road trading cities in Syria, with millennia of history, making it, like Damascus, one of the oldest inhabited cities in the world. Even though the city is a UNESCO World Heritage Site, its historic Al-Madina Souq, was mostly destroyed during the Civil War conflict only a few years ago.
Eat & drink
Falafel is a vegetarian dish made from chickpeas that have been made into a rounded croquette with spices and cilantro and are deep-fried. They are often accompanied with pita and hummus.
Foul, pronounced "fool" is a paste made out of fava beans, topped off with olive oil, paprika and cumin, often served up with flatbread, mint, and onion.
Do
Bosra is located towards the Southern part of the country in the desert, esteemed for its Roman architecture and use of black basalt stones.
The Dead Cities make up a network of Roman and Early Christian towns that once formed a part of the historic city of Antioch, and have been abandoned for a long time.
Palmyra dates back to the 2nd century AD and boasts some of the most stunning archaeology in the country. Because of its Roman ruins, Palmyra is perhaps one of the most touristic spots in the country.