Set on the rooftop of the world in the Himalayas, Nepal has been a key link for trade between China and India, with many believing in its link with the Silk Road, hypothesizing that passed the route connected India and China via Tibet. UNESCO has recently identified concrete links between Nepal and the Silk Road, along with associated three routes through the country, connecting the Silk Road from China to the Gangetic Plains.
Nepal sits in the Himalaya Mountain Range, making it the land of exotic monasteries, mantras, Sherpas, yaks and the legend of Shangri La. Nepal shares its land-borders with Tibet in China and India.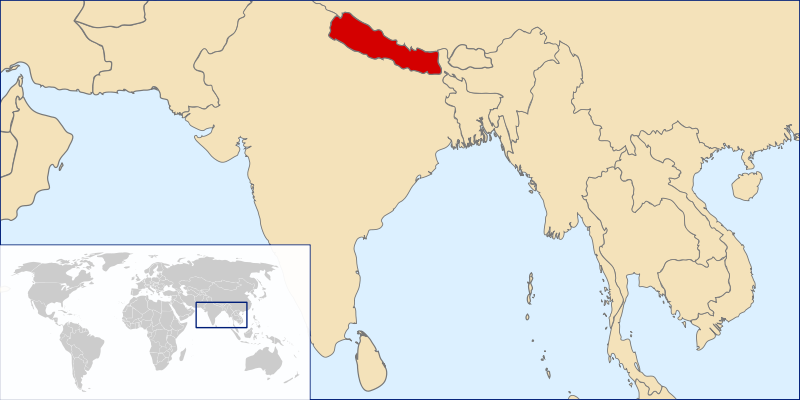 Cities
Kathmandu is both the political and cultural capital of Nepal. It's a city full of bright colors, sights and sounds that many describe as being intense and intoxicating. It serves as a good base to explore the country.
Eat & drink
Daal Bhaat Tarkaari is a national dish made from spiced lentils that have been poured over boiled rice and served with vegetables. This is often accompanied by yogurt and some spicy chutney or pickle.
Momos are traditional meat or vegetable filled dumplings that often accompany beer.
Raksi is a strong drink that bears a resemblance to tequila. It's often home-brewed, which means it will vary in strength and taste. It will often be served in unbaked clay cups and marketed on menus as "Nepali Wine".
Jaand is an alcoholic drink dubbed "Nepali Beer". It is weaker than the above-mentioned Raksi, but it still packs a punch. It is often served diluted with water.
Do
Trekking. Nepal is famed for its mountain landscape, and many come here to scale Mount Everest or explore the natural landscape of the country. Teahouse treks are perhaps the easiest ones to explore, since you'll find many teahouses and lodges within a day's hike.