China is the starting point of the historic Silk Road. The Chinese were the first to discover silk and cultivated it for commercial purposes. Eventually this luxury commodity became the main reason behind on of the world's most important trade route linking Europe to the most eastern reaches of Asia.
The Chinese portion of the Silk Road, according to historians, runs 4,000 kilometers from Changan, known today as Xian, and split into two routes to avoid the Takla Makan Desert before continuing onto Kashgar and Samarkand.
China is a vast country sharing land borders with Russia, Mongolia, Kazakhstan, Kyrgyzstan, Tajikistan, Pakistan, Afghanistan, India, Nepal, North Korea, Myanmar, Bhutan, Laos and Vietnam.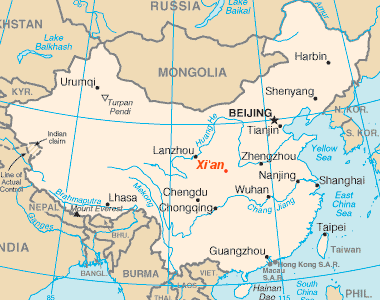 Cities
Beijing is China's capital city and the second largest in the country after Shanghai. It was once the seat of the Ming and Qing dynasties, home to the Forbidden City and close proximity to the Great Wall of China.
Xian is the modern site for the ancient city of Changan, the original staring point of the Silk Road. This housed China's ancient capital for 11 dynasties. You can find a Silk Road Exhibit at the Shaanxi Provincial History Museum, along with sites heralding back to the city's ancient heritage.
Eat & drink
Yang Rou Pao Mo is local signature dish in Xian, made from a piece of thick bread and a kettle of mutton soup, it's eaten by shredding the bread into small pieces by hand and then adding to the soup. This is often accompanied by pickled garlic and chili.
Biang Biang Mian is a special noddle dish from Xian that is served with spiced broth, egg, tomatoes, beef and other toppings.
Rou Jia Mo is another local dish native to Xian, which is close to a sandwich since it is filled with meat, and one of the typical dishes you must try in the area.
Do
The Terracotta Soldiers are located close to Xian and are one of the world's archaeological wonders. From the Qin Dynasty 2000 years ago, these 8000 terracotta warriors were supposed to protect the first emperor in the after life.
Dunhuang is one of the Silk Road's ancient cities, and known for its nearby network of caves called the Mogao Grottos, offering some of the most stunning work of Buddhist art, manifesting in 2400 painted sculptures and 45000 square meters of frescoes.
Kashgar was one of the biggest Oasis cities in Western China, linking the Silk Road with Central Asia. The city has a strong Muslim character these days, echoing its links with Central Asia via its bazaar.