Armenia

Armenia offers a tapestry of rich and ancient culture, beautiful landscapes, and friendly people. The country was the first to become a Christian State, and its language was even studied by Lord Byron himself.
Goods destined for the Near East and Asia Minor coming from Central and South East Asia traversed Armenia, using the old Lapis Lazuli and Tin routes, made their way into Armenia via one of the major branches of the Silk Route.
Armenia borders on Turkey, Georgia, Azerbaijan, and Iran.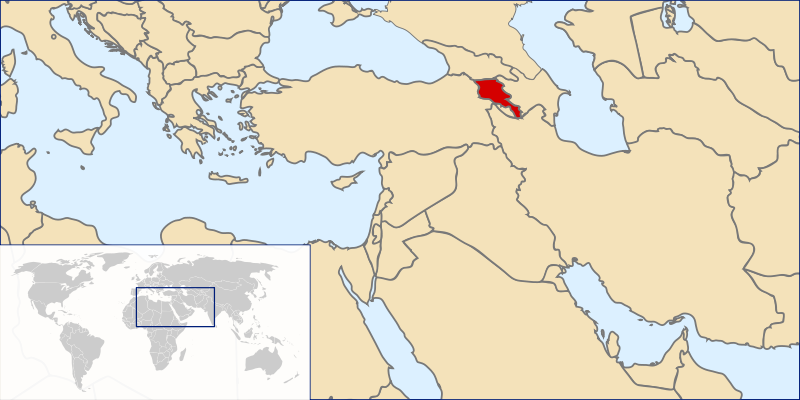 Cities
Yerevan was a city on the Silk Road, but today it is a cosmopolitan city with a Soviet aftertaste. Rich in modern art and vibrant summer nightlife, Yerevan feels like a young capital city. It makes for a good base to visit the rest of the country, due to its accessibility, and has a Western feel in its downtown area.
Eat & drink
Brandy: Armenia is famous for its brandy, and even Winston Churchill said he favored it above French Cognac. Ararat is the most famous brand, and you can visit the distillery at the Yerevan Brandy Company.
Khorovats is a form of grilled meat that is similar to a kebab. It can be made from a variety of meats, including pork, chicken, beef, or even lamb. It's often flavored with onions and local spices and often served alongside eggplants, bell peppers, and sometimes lavash bread.
Lavash is a very thin flat bread with a chewy texture that you'll find served at any good Armenian meal.
Fruit: Armenia is known for its fruit, and apricots are said to have originated here. It's best to sample some fresh apricots and pomegranates from the market or in dried fruit leather form.
Do
Monastery Hopping: Armenia's early Christian heritage has gifted it with a number of historic monasteries, worth visiting either for architectural reasons or natural ones. The most famous and spectacular monasteries are the Geghard Monastery carved into the rock, Khor Virap with views of Mount Ararat and the location of St. Gregory the Illuminator's imprisonment, Noravank, a monastery built with iron-red rock from the surrounding gorge, and Echmiadzin, Armenia's own Vatican City.
Lake Sevan is one of the world's highest fresh water lakes, and Armenia's largest body of water. You'll find the monastic complex of Sevanavank and Noratus, a cemetery filled with Armenian gravestones called "khackars".
The Debed Canyon combines natural beauty with history, along with two UNESCO World Heritage Sites: the Haghpat and Sanahin monasteries.